Upset Training
Chalk 2 offers unique upset and safety training designed for student pilots, general aviation pilots as well as UAV pilots and flight test engineers. The safety courses have been developed with the goal to assist pilots of all skill-levels in becoming safer and more confident through training and hands-on experience. Are you looking for something more customized or an aerobatic ride experience? We provide additional options as well to meet your needs.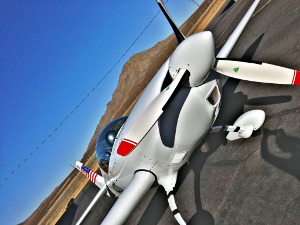 The Airplane:
The Extra 300L is a high performance certified aerobatic aircraft with a well-respected safety record and provides the perfect platform for students and high-level competition pilots alike. Rated for +/- 10 G's and offering 300 horsepower, the Extra 300L not only allows pilots the ability to test the edges of the flight envelop in a safe environment but also gives the experience flying one of the most high-performance aerobatic aircraft in the world.
Introduction to Spins and Safety (1-Day Course)
This is a one-day introduction to the basics of aviation safety through an academic ground session followed by an instructional flight. Geared towards general aviation pilots and student pilots interested in getting their feet wet in the realm of aviation safety training, this course not only reviews very basic aerodynamics, slow flight, stalls and spins but also touches on the human factors issues that are highlighted in case studies and videos used during the academic block of the training.
Training Aircraft: Extra 300L
Maximum Ground Instruction: 3.5 hours
Maximum Flight Time: 0.7 hours (1 flight)
Basic Upset and Safety Training (2-Day Course)
This two-day safety course (2 Academic and Flight Blocks per day) allows the general aviation pilot to safely explore the edges of the flight envelop while increasing their awareness and ability to be the safest pilot they can be. With a strong focus on human factors and general aerodynamics, review of numerous case studies and allowing the student to experiment with stalls, spins and upset recoveries, this course assists pilots in attaining a deeper understanding of aviation safety while increasing their piloting skills and overall confidence in the cockpit.
Training Aircraft: Extra 300L
Maximum Ground Instruction: 8 hours
Maximum Flight Time: 2.8 hours
Advanced Safety and Introduction to Aerobatics Training (3 Day Course)
This three-day course (2 Academic and Flight Blocks per day) is designed to allow pilots who have already completed the Basic Aviation Safety Training to continue into more advanced spins and upsets as well as an introduction to aerobatic flying at the primary and/or sportsman level (customer preference).
Training Aircraft: Extra 300L
Maximum Ground Instruction: 12 hours
Maximum Flight Time: 4.2 hours (6 flights)
Flight Safety Training for the UAV Pilot and Flight Test Engineer (Under Development)
This safety course is being designed specifically with UAV instructors/flight test engineers in mind. This 3-day course (2 Academic and Flight Blocks per day) includes review of issues particular to loss of control of UAV's, high altitude upsets and human factors that play a particular role in unmanned operations. Through multiple academic sessions and Extra 300L training flights, students are able to safely explore the flight envelop as well as gain a deeper understanding of the testing that goes into the development of new UAV platforms. Additionally for FAA certificated pilots, this course will increase stick and rudder skills and pilot confidence.
Other Flight/Training Opportunities
Custom Flight Training
Are you looking for customized upset recovery training, basic aerobatic training, CFI spin endorsements, etc.? Please feel free to contact us and let us know what you are looking for and we will let we know how we can help you meet your goals.
Aerobatic Rides
Are you a pilot looking to get a taste of what aerobatic flight is all about or are you not a pilot but seeking the thrill of looping, rolling and tumbling through the sky? Our custom aerobatic rides might be just what you are looking for. Also a great gift idea!
BFR's
If you already hold a tailwheel/high performance endorsement and are looking for a new way to complete a BFR the Extra 300L is available!
*We currently do not over any basic certificate training (private, commercial, instrument) or tail wheel endorsements in the Extra 300L.